Dr. Otto Warburg - On Cellular Oxygenation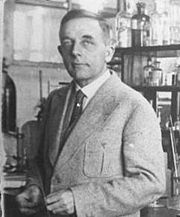 According to Nobel Prize winning scientist, Dr. Otto Warburg, there are prime and secondary causes of disease... by a prime cause Dr. Warburg means a cause that is present in every case of the disease. (Read Dr. Warburg's thesis)
That's why Dr. Warburg states that cancer... has countless secondary causes; but there is only one prime cause. Summarized in a few words, the prime cause of cancer is the replacement of the respiration of oxygen in normal body cells by the fermentation of sugar for energy creation. This, Dr. Warburg maintains, results when there is insufficient oxygen to meet the energy needs of a cell through oxygen respiration.
Continuing on this subject, Dr. Warburg states that all normal body cells meet their energy needs by respiration of oxygen, whereas cancer cells meet their energy needs in great part by fermentation. A Warburg quote,
"...all normal body cells are thus obligate aerobes, whereas all cancer cells are partial anaerobes. From the standpoint of the physics and chemistry of life this difference between normal and cancer cells is so great that one can scarcely picture a greater difference. Oxygen gas, the donor of energy in plants and animals is dethroned in the cancer cells and replaced by an energy yielding reaction of the lowest living forms, namely, a fermentation of glucose."
Common sense would dictate that a prime cause should be dealt with first and foremost. Therefore, the prime counter to the prime cause of cancer would be to increase cellular oxygen. Of course, that isn't what is being considered in today's cancer prevention research. Instead, endless number of secondary causes are being explored while the prime cause is of little interest to most cancer researchers.
Watch the following You Tube Video (Dr. Brian Peskin Interview) discussing the import of Dr. Warburg's cancer research:
What Dr. Warburg didn't know back in the 1930s was that processed, modern oils (which are the building material for cellular membranes) would turn out to be a major cause of a future epidemic of cancer such as we see today. So, watch the following You Tube presented at Boston College discussing how Dr. Otto Warburg had it right so many years ago in regard to cancer: